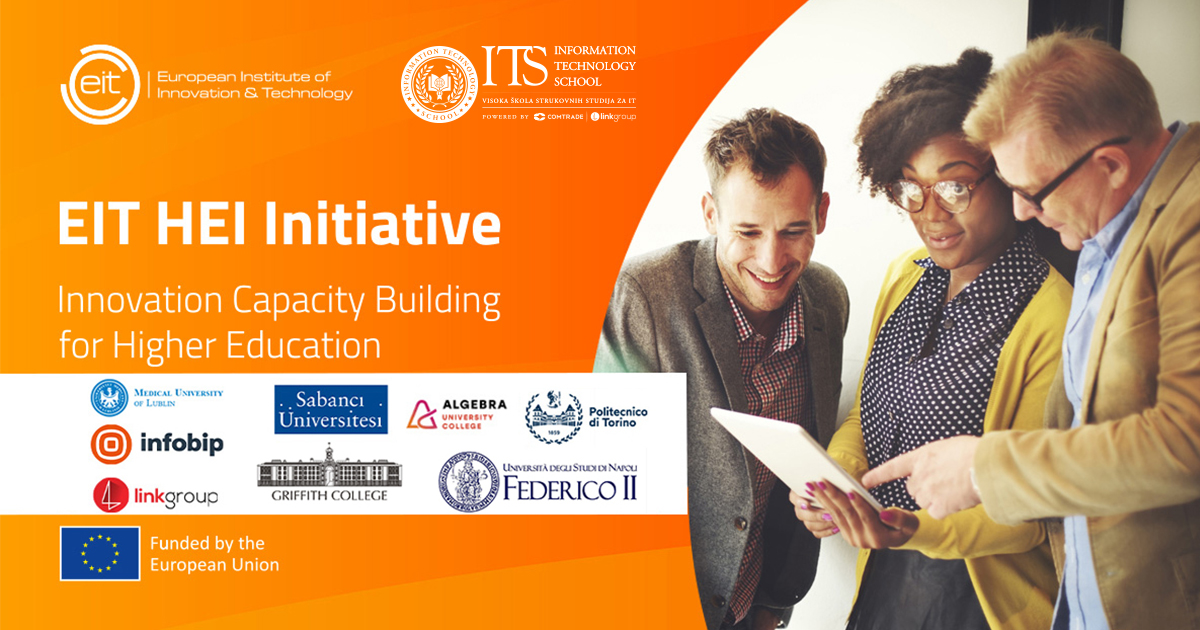 The LINKgroup and Information Technology School – ITS as part of the company are pleased to announce that they will participate in the new SMART4FUTURE project.
About the project SMART4FUTURE
SMART4FUTURE helps to solve the challenge posed to higher education institutions (HEIs) by the unprecedented technological advancements of today. Digital technologies are becoming increasingly complex, more embedded, more miniaturised and more autonomous. They have become invisible and yet they have an enormous impact on people's lives. Fuelled by this rapid change, the job market has, in the short run, become volatile and unpredictable. This means that students are entering higher education learning paths while having little to no idea how the skills they are about to acquire will measure against the needs of the job market decades after they leave higher education. SMART4FUTURE believes that only smart innovation ecosystems, which will be able to leverage the power of high-tech with the innovation and entrepreneurial capacity to think with and beyond traditional domain knowledge, can successfully answer that challenge.
Five HEIs, one small and medium-sized enterprise (SME), one large company (HEI founder) and one international large company have partnered in this project to create all necessary preconditions for establishing HEIs as focal points of smart, local and regional innovation ecosystems in six countries: Croatia, Ireland, Italy, Poland, Serbia and Turkey.
The project consortium brings in the expertise that will enable SMART4FUTURE to acquire a profound understanding of the S3 innovation ecosystems' strengths and weaknesses. This will make sure that innovation and entrepreneurial curricula answer the needs of local stakeholders.
The project-supported capacity building will make inroads into SMART4FUTURE HEI's structures, by creating start-up support mechanisms, mentoring schemes, improving and creating technology transfer offices, and by establishing new types of collaborations with external partners.
During the project funding period, SMART4FUTURE will support more than 40 start-ups, train more than 400 and mentor over 150 students, train over 50 and mentor over 40 academic staff, create over 80 partnerships, improve more than 1 support structure per HEI and create 3 sets of highly transferable training materials.
Innovation and entrepreneurship are important to successfully cope with the uncertainty brought by the technological revolution of the 21st century. SMART4FUTURE envisions a future where students will no longer need to feel uncertain once they have been empowered to transform their expertise into tangible, societal value – irrespective of the pace of social or technological change they will face. Instead, together with teachers, students will become active participants of the powerful deep tech transformation.
The project will receive funding from the EIT HEI Initiative: Innovation Capacity Building for Higher Education. This initiative of the European Institute of Innovation and Technology (EIT) aims to boost the entrepreneurial and innovation capacity of higher education institutions (HEIs) across Europe. The involvement of non-academic organisations like LINKgroup is an important part of the initiative, as it creates important synergies between industry and HEIs.
As part of this project, we will be working together with the following partners:
Associated Partner:  Politecnico di Torino, Italy
Under the EIT HEI Initiative, the project will receive funding of € 1.19 mil, and it will run until December 2022, with the possibility of getting extended for 18 more months.
Stay tuned for more information on this project in the coming months!
About the EIT HEI Initiative
The EIT HEI Initiative is a key objective for the European Institute of Innovation and Technology as part of its new strategy. The initiative aims to support HEIs with expertise and coaching, access to the EIT innovation ecosystem, the largest in Europe, and funding, enabling them to develop innovation action plans complementing the needs of individual HEIs. This is the EIT HEI Initiative's second call for proposals, following the success of the 2021 Pilot Call. So far, the initiative has provided funding to nearly 50 projects. The next call for proposals is expected towards the end of 2022.
About the EIT
The EIT strengthens Europe's ability to innovate by powering solutions to pressing global challenges and by nurturing entrepreneurial talent to create sustainable growth and skilled jobs in Europe. The EIT is an EU body and an integral part of Horizon Europe, the EU Framework Programme for Research and Innovation. The Institute supports dynamic pan-European partnerships, EIT Knowledge and Innovation Communities, among leading companies, research labs and universities.