Students attending the Information Technology School (ITS) have at their disposal numerous possibilities which can significantly enhance the quality of their learning process, as well as the acquisition of knowledge and skills required by the most sought-after professions of today.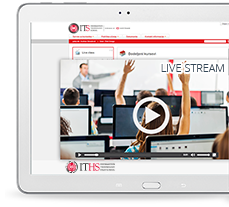 Another benefit for ITS students we have introduced this academic year is the option to follow lectures online, via Live Stream. Students access the Live Stream via the platform for software-supported learning and the Live Class section containing the links for the subsequent lectures and their timetable.
We are certain that this additional resource will significantly contribute to the quality of the learning process at ITS and make it more efficient, primarily owing to the fact that from now on, all lectures will be stored in the video archive and will, therefore, be available to the students at all times.
Video Archive
In order to further facilitate learning for ITS students, we have enabled them to view the lectures through the Video Archive, after they have been broadcast via the Live Stream. ITS students can access the Video Archive option via the platform for software-supported learning, in the Learning Support menu.