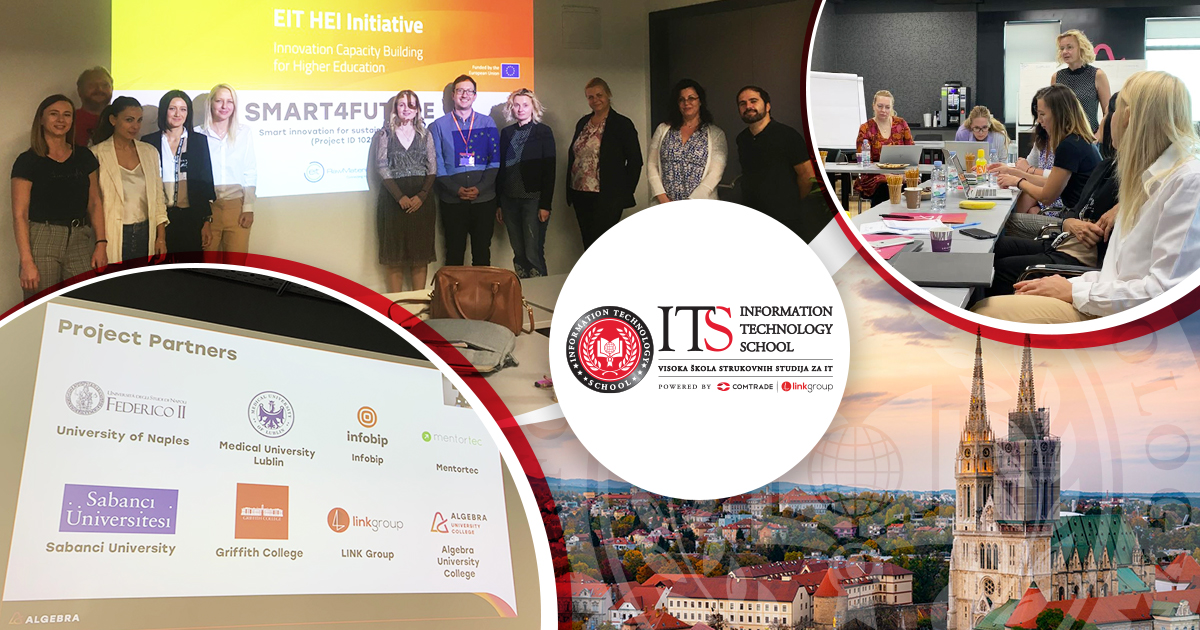 On Tuesday and Wednesday, September 20 and 21, 2022, a kick-off meeting was held in Zagreb to start the "Smart4Future" project in order to support innovation and entrepreneurship at higher education institutions. The project is funded by the European Institute of Innovation and Technology (EIT). The hosts of the meeting were colleagues from Algebra University College in Zagreb.
The project consortium discussed the work plan and project management, as well as concrete project activities: mapping and networking with the local and regional business ecosystem. Also, a draft program for promoting the development of startups at higher education institutions was presented. On the second day, strategies for launching startups were developed, and activities leading to smart changes were defined. A special topic in the development of an entrepreneurial mindset is: Learn how to fail – get up after falling.
Smart4Future Project
LINKgroup has a mission to help people become more successful. Through this project, our higher education institutions aim for students, together with professors and non-teaching staff, to become active participants in a deep, technological transformation, to transform their expertise into tangible, social value in accordance with the needs of the current and future labor market.
LINK Educational Alliance was represented by Associate Professor Milena Ilić (LINKgroup, FCA, ITS) and Master of Economics Lidija Miletić (ITS).
The goal of the "Smart4Future" project is to help solve the challenges that technological progress and an unstable and unpredictable labor market pose to higher education institutions. Today, students go through higher education "learning pathways" and know nothing about how the skills they will acquire will match the needs of the labor market, decades after they complete their higher education studies.
Five higher education institutions, LINKgroup – a large international company in the field of education (founder of two higher education institutions), one Croatian "unicorn" and one international company in the field of mentoring, joined together in this project to create all the necessary preconditions for the establishment of higher education institutions as focal points of smart, local and regional innovation ecosystems in six countries: Croatia, Ireland, Serbia, Italy, Poland, and Turkey.
During the project financing period, at the consortium level, more than 40 startups will be supported, more than 400 students will be trained and over 150 will be mentored. Likewise, more than 40 people from the academic staff will be trained and mentored, more than 80 partnerships with the economy will be established, and support structures will be created at each higher education institution.