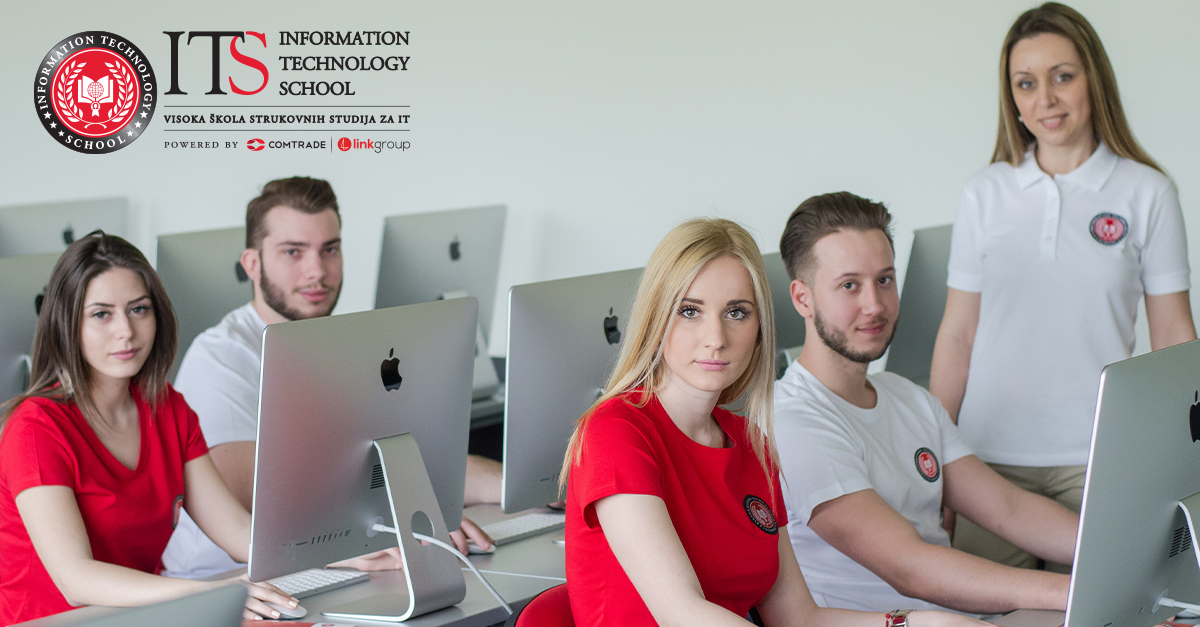 What is the first thing we think of when we say, see, hear – ITS? Say we are riding a bus and see an ad for the ITS somewhere in the city, or we hear a millennial expressing their thrill with the experience of studying at ITS or, even more convincingly, explaining how excited they are to already be working with our partner IT organization Comtrade or another respectable high tech institution?
Quality – that's right! It provides reliable, safe service if you are keen on some quality "surfing" on the waves of different IT areas and would like your ambitious, unique journey to be guided by true experts of their trade. And even more!
Satisfaction – the right word for choosing the profession that ranks among the most popular, most prominent and most valued positions globally, with the rare pleasure of studying in your own country surrounded by top experts – organizers and teachers with years of experience behind them.
Loyalty – which is best witnessed by our younger students from the ITHS – the high school started by the ITS – who do not hesitate to continue their education after secondary school by remaining under our wing – at the ITS itself. And this loyalty knows no boundaries; after three-year studies at the ITS, you can enjoy the numerous benefits of moving on to master studies without leaving our premises!
Trust – ITS instills trust into true values through the formal education options, as well as a number of informal educational options (courses, workshops and other extracurricular activities), which should not be missed!
Personalized relationship – ITS is there for each of us, to adjust to the needs of today's age of dynamic living. Through a skillfully designed schedule of lessons at several locations in the city, the entire faculty strives to meet all your needs and fulfil your wish to be our students! We appreciate it very, very much.
Communication – The language of the ITS is modern and adjustable, utilizing the countless technical possibilities the likes of which few schools can offer, which we are rightfully proud of; we do not lack savvy in any type of communication in the digital world, the world best attuned to your habits and needs.
Brand – without false modesty, we rightfully claim to be a brand in its own right, and have been one for quite a while. ITS is a useful, uncontested, wondrous journey into the IT world, one which brings special creative and pragmatic experiences necessary for the journeys that await you later as a professional – journeys to the center of IT knowledge and skills that will enrich your trade and lead to great rewards in life.
See for yourself that the ITS is something more than a mere IT school. Join the new generation of our students!                                                                    
Doc. dr Nevenka Popović Šević