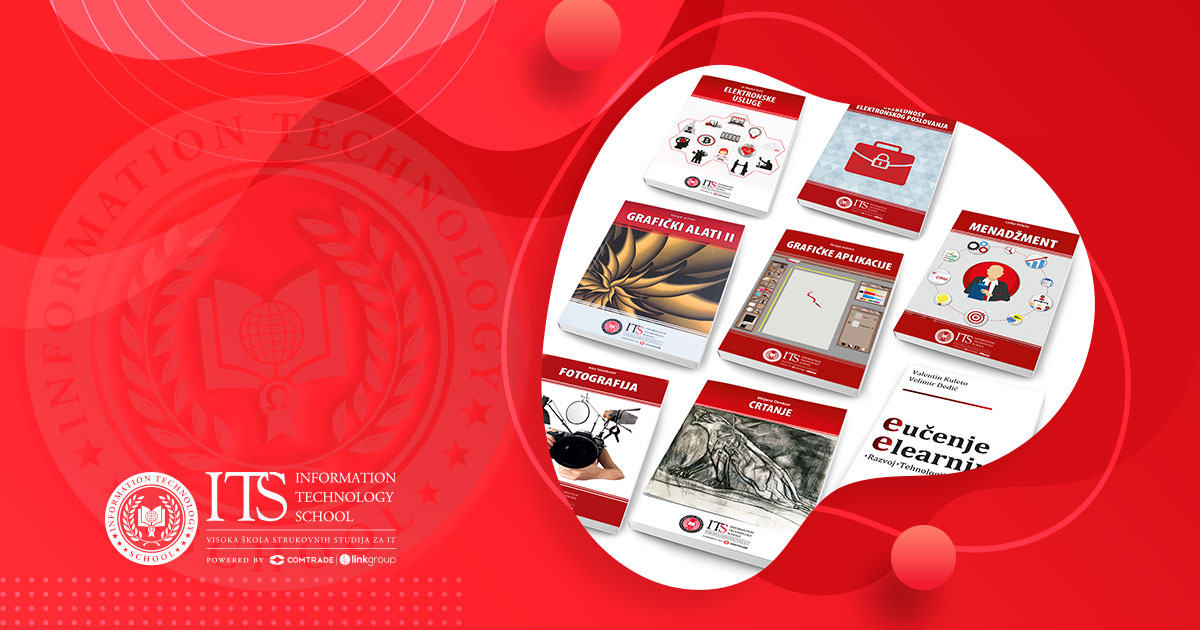 Since its foundation, the International Technology School (ITS) has cared for its students and followed market trends, even in the current extraordinary circumstances caused by the COVID-19 pandemic. Textbooks and teaching materials are one of the elements that constantly contribute to the enhancement of the teaching process.
ITS publications – a contribution to top-quality education
ITS provides its students with textbooks and exercise books in printed or electronic form, lecture materials available on the platform for students on the same day, as well as video lectures.
Since its foundation, ITS has placed great focus on reading materials, and 10 years ago they published their first textbook. According to Stephen King, books are a uniquely portable magic, and the goal of ITS is for the students to have life-changing ideas based on the information found in books, which enables them to find employment even before graduation.
Each ITS textbook has two reviewers, one of which is from another higher education institution. We are proud of the fact that our textbooks are reviewed by professors from different higher education institutions, which contributs to the quality of our publications.
All ITS subjects are supported by reading materials written by the professors. The rulebook on publishing defines the elements each textbook must contain, and makes sure the scope of the textbook matches the classload and number of ECTS credits. ITS ensures the quality of their textbooks and other reading materials, and library and computer resources by adhering to publishing standards and quality assurance procedures.
Unique publications on our market
ITS textbooks cover different areas, including programming, e-commerce and e-business, data management, HR management, web design, internet security and information system reliability, project and investment management.
Each textbook is distinctive, as ITS professors strive to use a direct approach and a plethora of practical examples so as to introduce the content to the students and encourage them to engage in problem solving by using software tools and an individual approach in the process of data analysis for business and personal purposes. ITS also boasts pioneer projects, namely the Visual C#.NET programming exercise book, which is a rarity in the field.
The Advanced Web Design textbook is written in a manner that is also interesting to readers who are not ITS students, as it sublimes the most relevant data in programming and design, particularly for those who wish to master the JavaScript programming language. The idea is to enable students to gain applicable IT knowledge and skills, which is one of the segments in the Marketing and Internet Marketing textbook, the goal of which is to introduce students to the role and importance of marketing in business, the main features of brands, the factors that make a loyal customer, and the possibility of applying virtual reality for promotional purposes.
School Shop – ITS online bookstore
Like the world's largest educational institutions, we opened an online School Shop where we sell books and souvenirs with ITS insignia. The main products on the School Shop website are books and textbooks we have published in the past 10 years. We offer clients the option to order books online and have them delivered at their home address.
ITS exhibited at the 63rd International Belgrade Book Fair in Hall 2A of Belgrade Fair. The largest event of its kind in the region has promoted literature and education for decades, and brings together the most important local and international authors and publishers.
One should always have in mind, as we tell our students, that the fact of knowing how to read is nothing, the whole point is knowing what to read (Jacques Ellul); that one should not be indifferent towards reading, as it can impoverish one's life (Ivo Andrić), and that we are a part of all we have read (John Kieran).
We invite you to browse through and read our publications. Our professors – the authors of the textbooks – will be ready to offer additional information and share their experience regarding the ideas you have generated while reading books published by ITS. This year, ITS professors have continued exploring current market trends so as to make the new publications fully up to date.