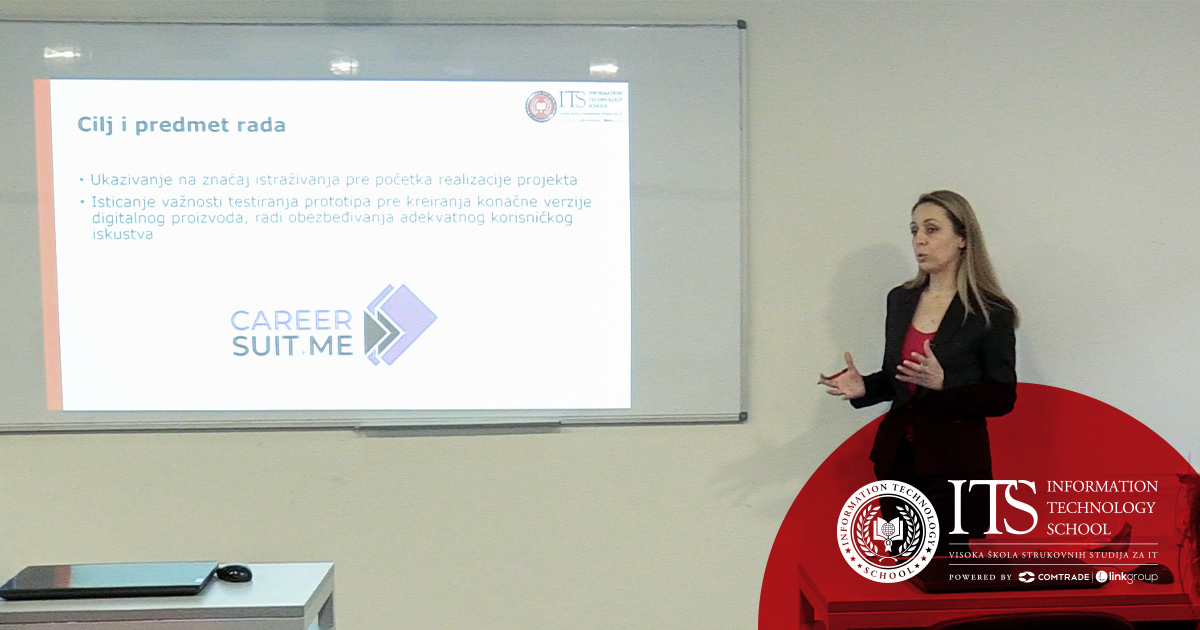 The end of 2020 was marked by another great achievement at ITS. Two years after the enrollment of the first class of students in an applied master's program, our alumnus Danijela Grujić defended the very first master's thesis at ITS. Her thesis is titled Designing Interface and Testing User Experience of the Website for Writing Resumes – Career suit me, and her mentor was Marko Nikolić, Professor of Application User Interface Design in our master's program. 
Practical application of UI and UX design
Danijela's master's thesis describes the specifics of the processes of researching, creating and testing a website where registered visitors can purchase a personalized resume and attend training that will prepare them for a job interview, with additional options, such as writing and editing LinkedIn profiles.  The thesis is characterized by a multidisciplinary and analytical approach to problem solving, and a comprehensive information processing that has led to valuable conclusions.
Creating the website is a complex process that has gone through different stages: 
researching the market, competition, and the needs of potential users in search of an appropriate job, and developing the initial idea based on the presented analysis in terms of defining services to be sold, and ways to purchase them;

defining personas and scenarios as the basis for designing the layout and content of the website;

finding an adequate name for the website, preferably one that is unique, catchy and memorable;

designing visual identity for

Career suit me

– from a logo, color palette and typography, to defining the content presentation style;  

sketching and creating the interface using the Adobe XD tool, referencing its advantages and disadvantages; 

testing the interface prototype for desktops, tablets and smartphones by hired persons who match the defined user archetypes;

altering the interface and its functions based on the test results so as to get an adequate digital product, and drawing conclusions on the importance of this stage as an indicator of project success.
This master's thesis describes the entire process of website design, including the application of the latest digital tools, and as such, represents a project of great importance in its field.  
Why is a master's degree in applied studies at ITS a good idea?
In the EU, applied studies are the basis of the educational and professional system the whole society rests on. There is a number of high-ranking colleges of applied studies that prepare students for a professional career. Hence, applied studies come highly recommended, provided you know exactly what interests you and want to enter the labor force as soon as possible.
The most in-demand profession in ICT is the software engineer, regardless of the specialization. In addition, other desirable profiles include project development managers, data analysts, IT consultants, IT auditors, and business analysts.
The applied master's program in information technologies at ITS is designed for students interested in mastering both the theoretical and practical aspects of information technologies at an advanced level. By introducing students to the emerging fields of computer science, this program validates the fundamental concepts of this field.
The curriculum is designed so as to allow students to develop skills needed to achieve leadership positions in business, industry and related fields that demand knowledge of ICT. The program lasts two years and is worth 120 ECTS. The enrollment requirement for our applied master's program in information technologies at ITS is a bachelor's degree (180 ECTS).
Upon completing the program, students will acquire general and subject-specific competencies, and will be awarded the title of a – Master of Applied Science in Information Technology and System Engineering. This master's degree is an equivalent of the VII/1 level of qualifications, but, more importantly, the competencies and knowledge they will acquire will bring them a secure future and a well-paid job in the most desirable industry today.