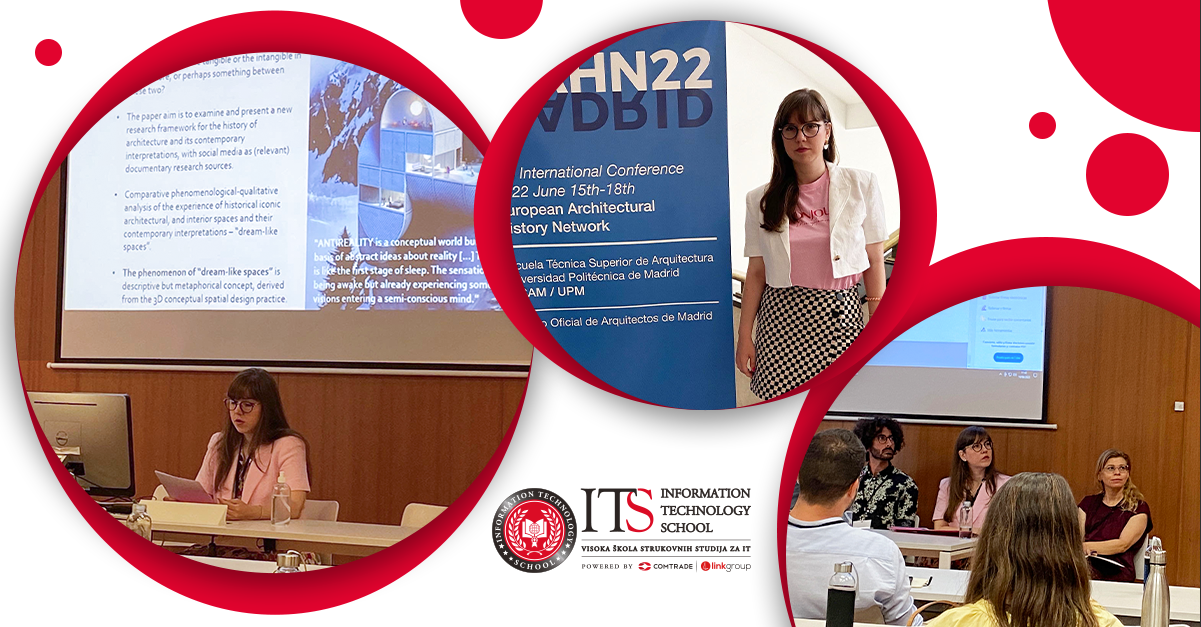 The European Architectural History Network (EAHN), the Higher Technical School of Architecture in Madrid (ETSAM) and the Madrid Institute of Architects (COAM) organized an international scientific conference "EAHN 7th International Meeting" (EAHN 2022), held from June 15th to June 18th in Madrid.
ITS professor Jovana Tošić was chosen to participate in the round table "But Today We Collect Likes: Digital Mass Media, History and New Research Methodologies", where she presented her work and took part in an open discussion on the role and future of contemporary digital repository in the interpretation of architectural history, held between the six participants of the round table and an audience of scientists and professionals.
The conference, which brought together architects, architecture professors and architectural historians from all over the world, as well as a large number of students of Madrid's Higher Technical School of Architecture, started with a lecture from the renowned Spanish architect professor Rafael Moneo, 1996 laureate of the most prestigious international award in architecture – the Pritzker Prize.
 Dreamlike Spaces
Professor Jovana Tošić presented her paper entitled "Dream-Like Spaces as Spaces of Likes: Towards the New Research Sources", wherein she critically interpreted the possibilities and the potential of digital mass media and social networks as a new research framework where architecture criticism can utilize them as documentary sources for research and interpretation of the history of architecture.
She approached her research through phenomenologically based comparative qualitative analysis of "dream-like spaces", which she defined as a spatial phenomenon that appeared and developed through abstract 3D spatial concepts, and then transferred to built spaces, taking references from the history of architecture and iconic design and architecture paragons. Professor Tošić established a parallel between the real and virtual experience of these spaces, interpreting the possibilities of a tangible experience of architecture through the virtual presentation of its tangible and intangible elements alike.