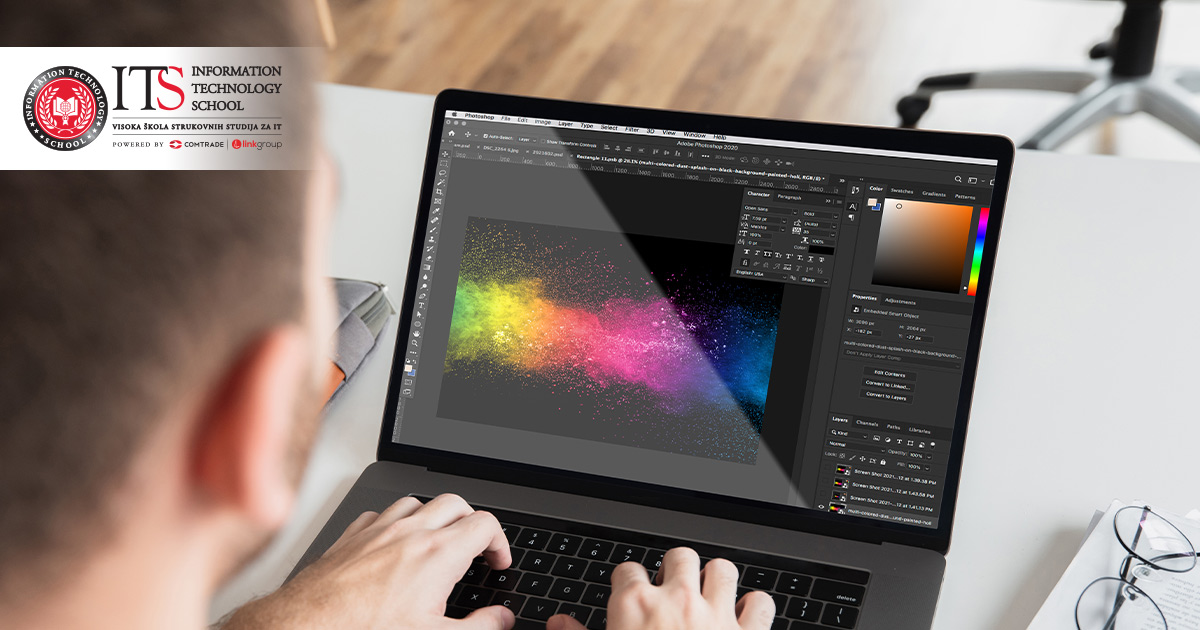 Although it may seem that all design studies are the same or offer a similar scope of skills, when you actually search the school websites and review the programs, you can easily conclude that the Computer Multimedia program at the ITS entails a lot more than many programs offered by other schools.
Program for creative individuals
Many people who have considered a profession that will help them realize their creative potential or allow them to be a part of creative processes of formulating visual solutions that will be used by many people have settled upon a profession in design and art. Computer multimedia is a program that offers a wide range of design skills required for a contemporary designer, in great demand on the job market.
During the three years of undergraduate studies, the Computer Multimedia program offers knowledge in web design, graphic design, video design, 3D modeling, animation, video production, photography, drawing and descriptive geometry. In addition to practical knowledge and skills, you will learn how to think like a designer and how to approach the creative process of designing each visual solution, so even complete novices will learn how to be professionals. 
The feeling of personal satisfaction and accomplishment is guaranteed when, in the last year of your studies, you create your own design portfolio, showcasing how many works and projects you have realized in such a short time and how much your skills and your way of thinking have advanced within that period. 
Work conditions and professors
The Information Technology School – ITS has contemporary premises for work and studies and computers with licensed software and tools. The teachers work individually with every student in order to recognize and develop each student's potential. 
The teaching takes place through lectures and practical exercises, where students acquire fundamental knowledge and develop and perfect it through projects. The teachers are present throughout each phase to provide advice and guidance toward the complete solution, which ensures top quality and the development of each individual student. In addition to helping develop the students' skills, all teachers are entrusted with the important task of instilling and developing a critical attitude toward their own work and the work of others in each student. This ensures the student's autonomy with making important decisions when developing ideas and formulating solutions. 
The students will work both within teams and individually. In addition to the critical skills, they will also develop the skill of emotional intelligence, i.e., the ability to empathize and understand others' emotions. This will prepare them for individual conversations with clients and understanding their needs in the best possible way, in order to deliver top quality service or product. The relationships that the students build with the teachers in a warm and creative atmosphere of a contemporary environment with state-of-the-art equipment helps develop a healthy and positive attitude towards the professional environment and the work tasks. 
Blending computer science and design
In the world which is rapidly developing, whose needs keep changing all the time, there is a constant that always remains, and that is the visual language. Design is the visual language of us all, but only designers have full mastery over it and thereby shape the reality. 
Design is your language which you use to send a message to the world! Your style aestheticizes each individual's reality; it is a variable everyone counts on to make their lives more interesting and more exciting. Your style is your reason to contribute to the world and the society and to use design towards the growth of each individual. Your style will enable you to create connections between people, products and services and participate in providing meaning and pleasure. This is why it is important that you should acquire skills relevant for work with digital media, in order for your message to be heard loud and clear. 
The Computer Multimedia program offers knowledge of Adobe software such as Photoshop, Illustrator, InDesign, Premiere, After Effects, and Audition, as well as 3D modeling and animation software Autodesk Maya and mechanical design software Autodesk Inventor. The skills you acquire include digital image, sound and video processing; illustration, print, visual identity design, animation and composing interactive multimedia content. Through various disciplines, you will master the space between art, design and technology. Join one of the most promising programs at the ITS.