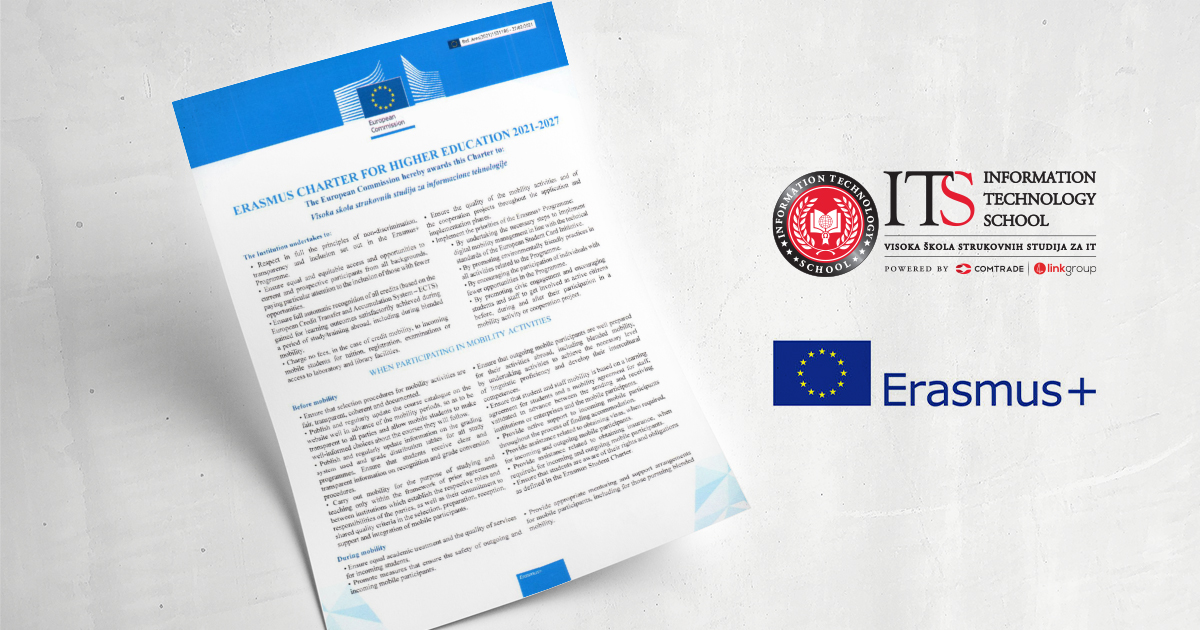 The Information Technology School – ITS, as a part of the LINK Educational Alliance, continually strives to advance the teaching process in order to ensure that the students receive quality education in step with the latest teaching trends.
ITS can now add the prestigious Erasmus Charter for Higher Education – ECHE to the list of its accreditations, memberships and partnerships. 
Based on this document, the European Commission issues accreditation to higher education institutions from countries participating in the program, making them eligible for applying for and participating in Erasmus+ program projects. It defines the fundamental principles that higher education institutions must observe in order to participate in the program. The Erasmus charter provides the basic quality framework for European and international cooperation. It is a necessary prerequisite for any type of participation of higher education institutions from Serbia and other Erasmus+ program countries. 
To be eligible for mobility and cooperation programs, higher education institutions must hold the Erasmus Charter for Higher Education – and ITS now does.
What does this charter mean for ITS?
Thanks to this charter, ITS is able to apply for, and participate in projects within the Erasmus+ program. ITS students will take part in international projects where they will be able to exchange knowledge and experience with students from other countries. The teachers also benefit from this acquisition, as they will have further opportunities to advance their knowledge and their teaching practices in cooperation with their European colleagues.
Thanks to the high quality of teaching, state-of-the-art equipment and excellent teaching personnel, ITS has acquired the honor which will undoubtedly bring many international projects that will elevate the teaching process to an even higher level.