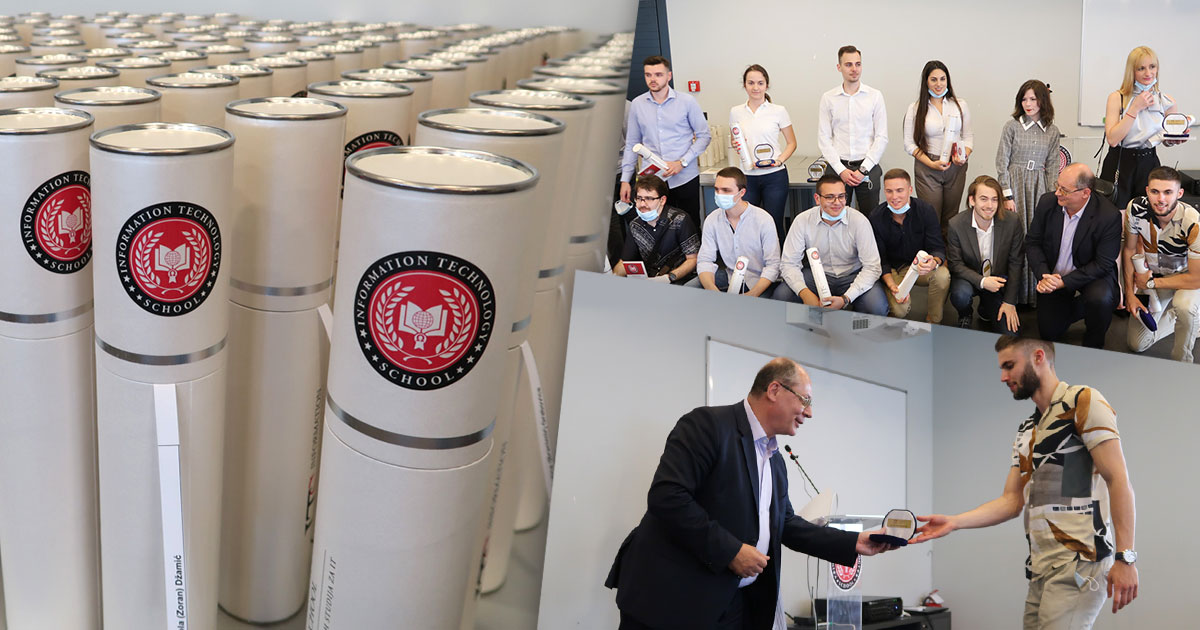 Information Technology School – ITS has seen another graduate class of future IT leaders who were awarded their diplomas, whereas the best among them received special recognitions.
Although this year has been very challenging so far, thanks to the dedication of both teachers and students, ITS realized the whole curriculum without much difficulties. Thanks to our unique Distance Learning Platform, students were able to follow the lectures in real time via live stream, and teachers could hold their lectures without difficulties. In addition, every lecture is available in the Video Archive and can be accessed at any time. Teaching materials were regularly published on the Platform for Students after each lecture.
Director Bojan Ristić did not hide his satisfaction that another class has successfully completed their three-year education, and invited them to continue their education at our master's programs and expand their knowledge of IT:
"This is a special day for all of us. You have completed an important chapter of your life, and new paths are opening before you. The doors of ITS remain wide open for you – in addition to master's studies, there are projects on which our cooperation will continue. The school and the teachers are proud of every success of our students and alumni, and we believe this is just the beginning."
What makes studying at ITS unique is the fact that students acquire practical knowledge thanks to which they are able to find employment quickly, and to win the most desirable positions in the IT industry, and this generation will be no exception in this regard.
Excellent study conditions and up-to-date practice at ITS
Practical knowledge and skills acquired during studies is what every graduate of ITS possesses, and each of them points out that enrolling at the Information Technology School was the best and most important decision they ever made.
Theoretical and practical classes at ITS are held in the Technology Center where students study in state-of-the-art computer labs, participate in real projects together with top IT experts, and acquire skills that are in high demand in the field of information technology.
Most of our students decide to continue their education at master's studies after graduation, thus improving their knowledge and skills, and gaining an opportunity to land even better-paid jobs in IT companies.
Diplomas were awarded during the ceremony, as well as special recognitions for those graduates whose grade point average was over 9.50, and for students who distinguished themselves in extracurricular activities and various school clubs at ITS.
We wish our graduates success in their career and further professional development, and we are certain a bright future awaits them, as well as many great achievements in all areas of life.