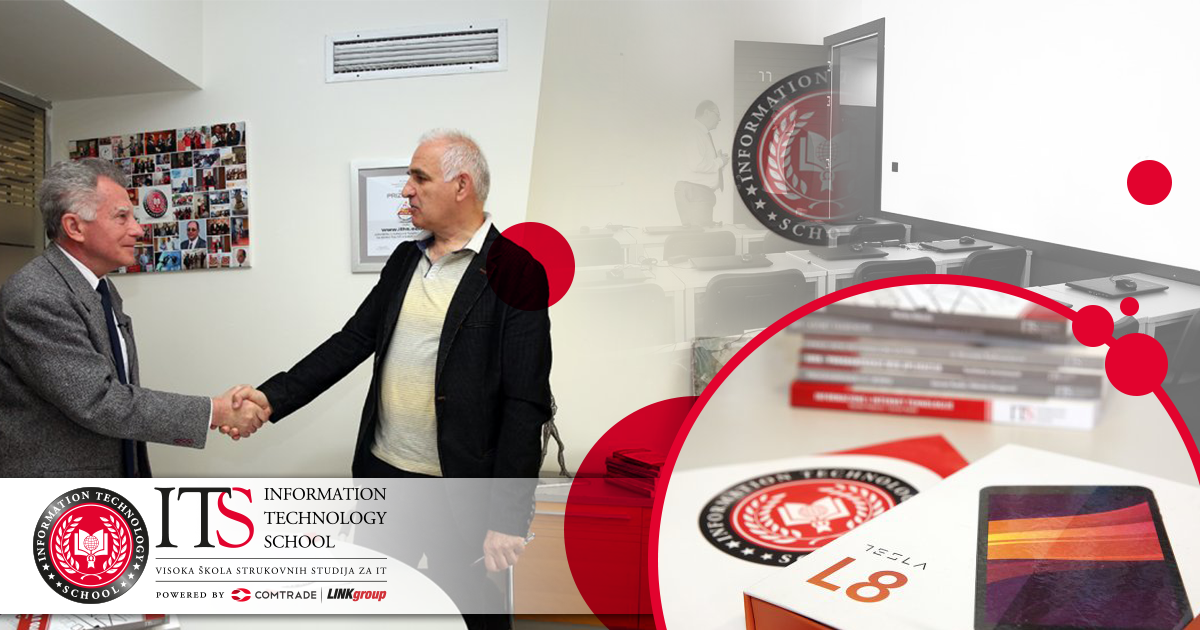 The Information Technology School (ITS) supports technological advancement in our country's educational institutions, as this is a prerequisite to provide all students with education in computer science. This is why we have donated tablets, laptops and textbooks to the Gymnasium in Kosovska Mitrovica, which has decided to create a special department for students showing talent in computer science.
ITS director Slavko Pokorni presented the principal of the Gymnasium with the donation comprising a section of the computer equipment used by the students of ITS and ITHS.
– Our school is honored to donate this equipment to the Gymnasium in Kosovska Mitrovica, which will celebrate its 100th anniversary next year, in order to help them successfully carry out their plan to create a computer lab. Their students have recognized ITS as a possibility for developing their future careers, and we hope some of them will opt for our school upon graduating from high school – said professor Pokorni.
The Gymnasium in Kosovska Mitrovica is educating top-quality students, even though they are operating in an environment that is far from ideal. This is why the ITS donation is particularly important for them.
– This donation is immensely important for our school, as this year we have decided to create a department for students displaying talent in computer science. We turned to ITS for help, which they gladly provided. This allows us to enhance our teaching aids, helping the students improve their work and gain relevant skills from which they will benefit throughout their education. We would like to thank ITS for their willingness to cooperate with us and help our students advance by providing them with an enhanced working environment – said the principal of the Gymnasium in Kosovska Mitrovica.
Slobodan Mihajlović, the principal of the Gymnasium, signed a memorandum of cooperation with ITS and ITHS. The meeting was attended by ITHS director Dr. Bojan Ristić and executive manager and professor at ITS Goran Radić. After a tour of ITS and ITHS premises, the principal of the Gymnasium was certain his students will have the perfect environment to acquire IT knowledge and skills should they opt for ITS.