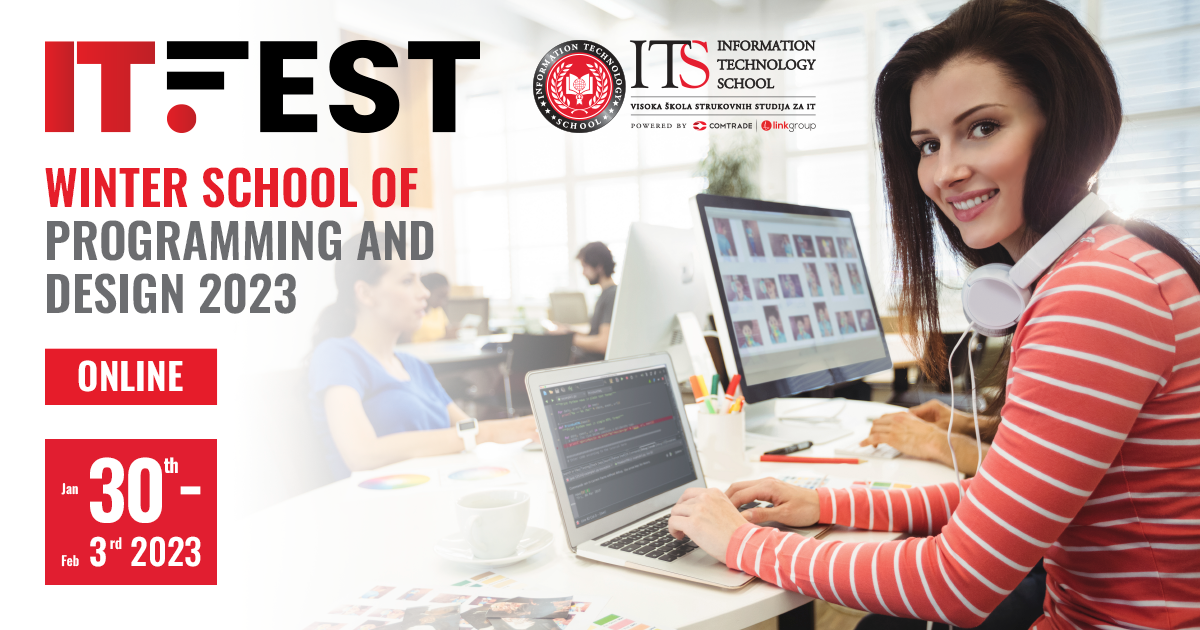 The Winter School of Programming and Design – IT Fest 2022 begins on Monday, 30 January, and will last until Friday, 3 February. It will be held online. What is particularly good news for all interested high school students who would like to learn useful skills relating to programming and design is that they can apply completely free of charge.
All you have to do to take the course is send an application via our website and you will receive an email which will allow you to attend the lectures and workshops over a live stream.
Acquire IT skills for a stable career
IT Fest 2023 is an amazing opportunity for all high school students to gain useful knowledge in the field that offers them the best chances of building a promising career.
IT Fest is organized by Information Technology School – ITS, which has been promoting contemporary education in the most promising field for years in this way.
The entire program of this year's IT Fest will be held online, by means of live stream technology, which has been used in classes at ITS as an additional teaching resource for years now, and which has proven to be a huge advantage during the current pandemic.
Create an animation, an interactive CV and your first website
Leading experts and professors at ITS who have built their careers in large international companies are going to share their experience and skills with students and help them master Java, Photoshop, JavaScript, Autodesk, the basic principles of cryptography and many other useful programs.
In addition to this, high school students are going to find out what problem solving is, what causes social media addiction, and learn how to create an interactive portfolio and much more.
At the IT Fest workshops, you will have an opportunity to acquire new knowledge and answer all your questions. IT Fest workshops and lectures are entirely free of charge, and all you have to do in order to attend them online is apply on the website and you'll receive an email with a link to the live stream.
Apply for online workshops at no charge at all
The Winter School of Programming and Design generates a lot of interest, and this year, all interested high school students will be able to take it owing to cutting-edge live stream technology, which will be used to stream the workshops and lectures online.
IT Fest offers a unique opportunity for you to step into the world of information technology and design completely free of charge. Seize this chance and acquire knowledge in these fields. You can find all the information on the following website: www.it-skola.com.